The Introduction of
The Genesis Social Welfare Foundation (G.S.W.F)
The origin of the GSWF
Twenty-eight years ago, noticing that our government and the folk did not work for the welfare of patients in a persistent vegetative state (PVS), Mr. Tsao Ching the founder of GSWF, stood by the perseverance in him, decided to unify the power of benevolent people by knocking on their doors everywhere in Taiwan. In 1986, conquered all the obstacles, the one and only nation-wide care home especially to look after the underprivileged PVS patients was established and service began. Later in 1994, it was transformed into a national foundation, the GSWF; employing the concept of folks helping folks and community-based social welfare, 16 PVS care homes were successively established in Taipei, Taichung, Hsinchu, Tainan, Banqiao, Chiayi, Taoyuan, Miaoli, Fengshan, Xindian, Keelung, Pingtung, Wenshan, Caotun, Luodong and Douliu.
Objective of Establishment

The GSWF aims to uphold human dignity and to respect lives with compassion. By unifying benevolent people in the society, we may accumulate drips of offerings into a huge river of love in action to run social services for PVS sufferers, the elderly, and the underprivileged.
Our Services
1. Taking care of the PVS sufferers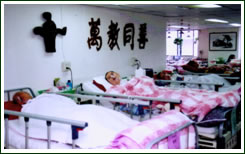 Care Service

Ever since the establishment in November 1986, we uphold the concept of 'Once a patient with PVS has been looked after, a family may survive', successively set up care homes and services in all over Taiwan. People with PVS, bedbound patients close to the state of PVS, registered to the government as impoverished or qualified for nursing conservation, cases do no require respiratory and oxygen, patients without notifiable infectious diseases that might cause outbreaks, may apply for admission to the care homes offered by the GSWF.

A patient with PVS requires full-time care, so the GSWF has employed professional nursing staffs to look after the PVS patients 24 hours a day, providing care such as feeding, bathing, measuring blood pressure and body temperature, taking care of the excrement, repositioning patients every two hours in case they might get bedsores, and constantly checking on their breathing. If there have been an emergency, the nurses will send them to the hospital at once.

Up to this point, there are 801 hospital beds throughout Taiwan, over 1000 PVS patients have been looked after and over 1000 families have their burden shared. According to statistics, there are approximately 4 to 5 thousand sufferers in the persistent vegetative state in Taiwan. It's only possible to serve around 12% of the PVS population, and we're still trying to work out the rest.

PVS Home-based Service

During the services to the PVS patients, GSWF has discovered that in many cases, PVS patients are cared for by families at home. To help these families to improve the quality and skills for care and provide them with comprehensive supports, GSWF has started "PVS Home-based Service" since August, 2003. For households with PVS patients, immobile elders or elders with dementia, they can call GSWF to apply for the home-based service. GSWF will then send professional nurses and social workers to their homes offering consultation and instruction on nursing cares and nutrition, medical care and social resource information, patient referral, also mental care and support to the family members.
2. Taking care of the Elderly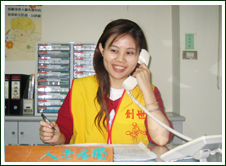 Phone greeting services to solitary elderly people

In order to prevent any emergency, getting sick or delay for emergent medical care from happening to solitary elders, phone greeting services began in May 1989. There are volunteers in shifts calling the elderly every day according to an arranged appointment from two to six in the afternoon. If the social workers get no response from an elderly person after calling three times, they will immediately inform their family, friends or neighbors, urge them to visit the elders so emergencies could be prevented and comfort the lonely hearts of solitary elderly people.

Elderly Home-Based Service

With the aging of the Taiwanese society, the population of elderly people with elderly dementia has increased. This has caused family and social problems that require urgent solutions. Thus, GSWF established the center for demented elder in 1995 which offers humanized, family-like, and professional nursing cares in order to palliate symptoms in Alzheimer's disease. In May 2000, GSWF started 'elderly home-based service', voluntary social workers visit elders in their homes, provide services such as housework helping, daily-life assistance, temporary alternative care, and even to accompany the elders to hospitals for medical treatments…etc.

Elderly Leisure Activity Center

GSWF also organized an "Elderly Leisure Activity Center", providing health facilities, such as blood pressure monitors and treadmills, and also recreational apparatus. Active older people can enrich their lives by playing mahjong or chess, reading papers and magazines, meeting new friends and engaging their minds.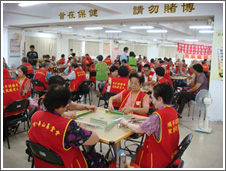 Elderly Appliances Exchange Center
With the premise of sharing burden, through providing assist devices to allow the elders to live a better life with a safer, much more comfortable and convenient way of moving around.
Senior Activities
In spring and autumn, there are hiking activities for the elderly to get outdoors for some fresh air, stretch out and get closer to the nature.
The establishment of the "Huashan Social Welfare Foundation"
In order to expand services for the elderly, GSWF has assisted in the establishment of the Huashan Social Welfare Foundation in 1999, organizing community half-way stations to serve the elders who suffer from losing reliance, disability and dementia. In order to make the service even more perfect, there are already 322 community half-way stations set up all over Taiwan to serve the elders in their own communities.
3. Helping the underprivileged
In 1991, GSWF started to serve homeless people in Wanhua District in Taipei; the operation priorities are as below:
Prevention of starvation (Meal Center)
Supply meals of lunch and dinner; celebrating festivals such as dragon-boat festival and mid-autumn festival with them; and organizing year-end banquets before Chinese New Year for the socially marginalized people who have no home to return to --- to give them a nice, warm reunion dinner. We are helping the homeless access the basic necessities of life, and encouraging them to get back on their feet.
Prevention of coldness (Protecting the homeless from cold)
Offer homeless with winter clothes, bath to clean themselves, restore their self-esteems and keep the city appearance neat.
Prevention of Disease
Assist the elderly or weak homeless people to get to medical attentions, apply for national health and welfare insurance. Help and prevent them from suffering and even death on the street.
The Establishment of the "Renan Social Welfare Foundation"
The Safe Harbor for the Homeless of the Renan Social Welfare Foundation has also planned the shelter's Workshop, and self-survival projects with the purpose of establishing the self-confidence of the homeless, and also to urge them to be financially independent.
In 1993, the Safe Harbor for the Homeless was established on Shantou Street of Taipei City Wanhua District as to provide stationery service, later it was relocated to Dali Street in 1996 till now. In May 2002, GSWF assisted in the establishment of the Zenan Social Welfare Foundation, setting up Safe Harbor for the Homeless in Wanhua, Sanchong, Keelung, Taoyuan, Chungli, Hsinchu, Miaoli, Taichung, Changhua, Chiayi, Tainan, Kaohsiung, Fengshan, Pintung, Luodong and Hualien, in order to raise the quality and quantity of services for the homeless.
Givivg a helping hand" counseling single mothers to start a career
In 2009, GSWF started to provide self-reliance projects to counseling single mothers to set up stalls selling roasted sweet potatoes with tools provided free of charge, so they are able to learn some skills to make a living and get a stable life.
Resources of funding for GSWF
☆ County and City governments granting standard subsidies according to cases
☆ 90% of the funding is the donation coming from benevolent people
Channel :
Irregular donations from the charitable benefactors
Charity events conducted occasionally by enterprises or groups.
Uniform invoices donated from all social circles, and the winning amount will go to the service fund for the disadvantaged.
Present Development

In addition to the sparse governmental financial support, 90% of the budget of GSWF for its services is contributed by irregular donations from people in Taiwan . A formal receipt is given to every donation, which will be used according to the donor's wish for specific purposes.

Looking into the future, GSWF combines its efforts with its sister foundations, Huashan and Renan Social Welfare Foundations, and proposes the project of "369, 23, 20" . This project aims to set up 'community half-way station' in 369 towns and cities all over Taiwan, Care Home for PVS patients in 23 cities and counties (including those in offshore islands), and 20 Safe Harbors for the Homeless along major railway stations. We need your participation and encouragement, please come and join the GSWF.

Main Institute in Taipei First Office : 4F , 28, Bei-ping East Road , Jungjeng Dist., 100, Taipei , Taiwan , ROC
Telephone No. : 886-2-2396-7777 Fax No. : 886-2-2375-4633
Second Office : 10F ., No.420, Zhongzheng Rd., Shilin Dist., Taipei City 111, Taiwan, R.O.C.
Telephone No. : 886-2-2835-7700  Fax No. : 886-2-2835-8855
Third Office : No.89, Dali St. , Wanhua Dist., Taipei City 108, Taiwan , R.O.C.
Telephone No. : 886-2-2336-1247  Fax No. : 886-2-2336-2074
Post Office Deposit Account No. : 12238589
Account Name : Genesis Social Welfare Foundation